If you love challenges and are looking for a way to earn extra cash, there's a site called MindSumo that claims you can earn money by providing companies with ideas and answers to their problems.
I'm always on the lookout for great ways to earn extra cash, so this site understandably got me interested. It's certainly a unique claim – that's why I decided to test it so I could find out if this site truly does what it says it does.
This Mindsumo review will show you exactly what to expect if you become a member so that you won't have to waste time trying it out for yourself to find out if it is worth it or not. You can just decide if you should go for it or not after reading this review.
What is MindSumo and what does it offer?
MindSumo is essentially a crowdsourcing site that offers an opportunity for you to earn by solving problems.
It is indeed a legit site since you will really get paid to provide answers and solutions to challenges that real businesses and companies encounter.
Now, to find out if it is worth your time, you first have to understand how the earning opportunity works. So, here's how to earn from MindSumo.
The earning opportunity – Challenges
The only way for you to earn from MindSumo is to participate in challenges.
Keep in mind that these are not physical challenges. Instead, these are real challenges experienced by real companies/businesses and they are looking for help in finding a solution.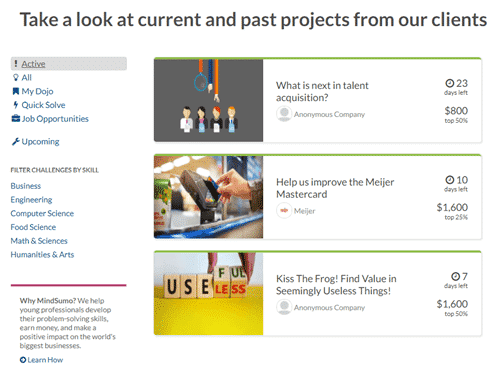 Once you become a MindSumo solver, you can log in to the member dashboard or the app (I will talk about the app later) and view all the available challenges you can participate in. You will also receive an email if there are challenges you are eligible to participate in.
One thing to note about the challenges is, some will only be available for top-tier problem solvers. It will still show up in the available challenges, but if you are not a top-tier solver, you won't be able to participate in the challenge (I will discuss later how you can become a top-tier solver).
Now, if you see a challenge you can participate in, just click it to see the full details.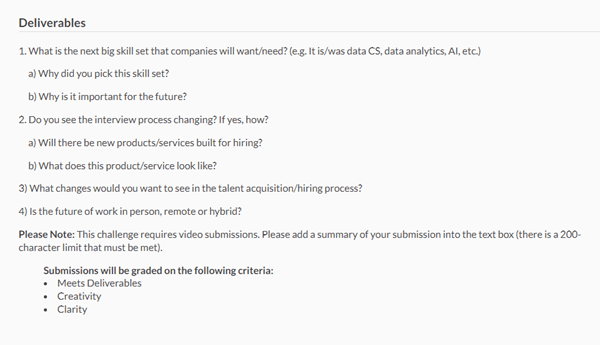 Every challenge has a deadline and a set of deliverables you need to meet. In most of the challenges that I was able to participate in, the questions you had to answer already had a set of possible answers you just had to choose from.
Then, the last part was the more challenging part because you had to explain the solution you are offering for the challenge. Once you've submitted all the deliverables, you just have to wait for the challenge to end.
When it ends, the company that posted the challenge will review all the submissions (it can take up to two weeks for companies to finish reviewing the solutions) and decide who will receive the prize. Usually, for every challenge, there will be multiple winners (I will discuss how you will get rewarded in the next section).
The one thing I can say after I've tested this site is, the challenges you will encounter will really require creative solutions. So, if you don't have creative juice, there's a high chance you will not earn anything from this site. That is the most important factor to consider, in my opinion.
Recommended: Check Out the Top GPT Sites
How do you get paid?
Now, let's talk about how you can actually get paid. As mentioned above, in order to earn, your solution has to be chosen by the company that posted the challenge.

For example, in the photo above, the challenge will only reward the top 25% of the submissions and the winners will be further broken down. Only the top 5% will share the $1,000 prize. The next 7.5% will share $400 and the last 12.5% will share $200.
The keyword to take note of here is "share". In the example above, if the top 5% only involves two people that means each one will receive $500 as a reward. If the next 7.5% involves another two people, each one will receive $200. And lastly, the remaining 12.5% will share the $200 prize pool.
That's how the winnings of each challenge are calculated. Take note that the percentage will be determined by the company. There will be challenges where 50% of the participants will be rewarded and there will be challenges where a smaller percentage of the participants will receive compensation.
The question now is, how will you be able to withdraw your earnings if your solution gets chosen? Well, that's actually relatively simple. You will be able to withdraw your earnings via PayPal. And the good thing is, you don't need to reach a threshold to withdraw your earnings. You can withdraw your earnings anytime you want.
The payment system is easy to understand and I like the fact that the site offers PayPal as the payment option because it's one of the most convenient payment options available today. If you are looking for more sites that offer a convenient payment system, I would recommend you check out the top sites that pay via PayPal.
How much money can you make?
I will say right away, MindSumo pays really well. You can potentially earn hundreds of dollars if your solution gets chosen. But the competition is really stiff and as I've mentioned earlier, providing solutions to the challenges posed isn't easy.
But if you have the skills, this site can be a good source of extra income. Just don't expect that there will be a steady stream of challenges you can participate in. Plus, some challenges are only limited to top-tier solvers.
To become a top-tier solver, you must provide highly-rated solutions a certain number of times. They don't exactly say how many times but they will tell you if you have reached this kind of status.
As a MindSumo solver, this should be your goal because becoming a top-tier solver means there will be more opportunities to earn.
Can you use it on mobile?
As mentioned earlier, MindSumo has an app you can download so you can participate in challenges even when you are not in front of your computer.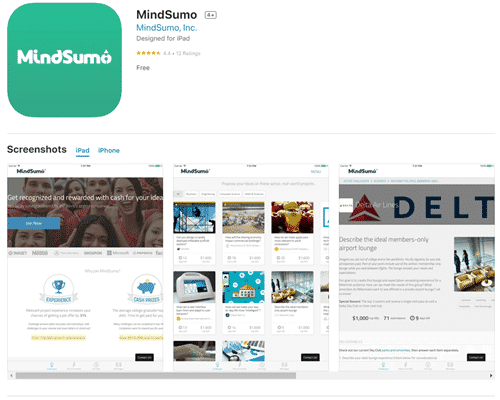 The app is only available for iOS devices, so if you are an Android user and you want to access the challenges from your mobile device, you just log in to the website using a mobile web browser. Fortunately, the site is mobile-friendly, so you shouldn't have any problems navigating it.
As for the mobile app, it is very easy to use. The user interface is very intuitive and you won't encounter any pop-up ads, which is a good thing.
Who can join MindSumo?
The site doesn't really tell you exactly which countries it is available in. But from what I can tell, it is available globally, so you should be able to register as a solver regardless of where you live. You just have to be at least 18 years of age to join.
To register as a solver, you just have to fill out the registration form. Then, MindSumo will send you a confirmation link via email. Just click the link in the email to complete your registration.
Once you've done that, you can now log in to the member dashboard and participate in the available challenges.
Can you get support?
If you have any questions about the site or your account, you can refer to the FAQ page of the site. It discusses most of the basic topics you need to know about MindSumo.
But if you can't find the answers you are looking for, you can just submit your inquiry to their support team by using the contact form provided on the website or the app. Overall, I would say the site has a decent support system in place for its solvers since you can get in touch with the support team quite easily.
Final Verdict
MindSumo is a legit site that offers a chance for you to earn decent money by taking on challenges. It has a couple of good features, but it also has some limitations you need to consider.
Let me wrap up this review by summarizing the pros and cons of the site so you can get an overview of what it has to offer. Then, you can decide if it is a good fit for you or not.

Pros:
Offers high rewards
Offers payment via PayPal
No payout threshold

Cons:
Doesn't offer guaranteed earnings
Requires a certain level of creativity to earn
The thing I like about MindSumo best is the high rewards it offers. But as I've explained earlier, it is not for everybody because earning from this site requires a certain set of skills. You have to be a good problem solver as well as a creative thinker to have a chance at earning from this site.
If you have what it takes, you can potentially earn a good amount from this site. But if you are just looking for a simple way to earn extra cash, this is not for you.
I would instead suggest you check out the top survey and GPT sites in your country. The sites on this list all have good earning potential and they all offer simple ways for you to earn.
If you have any comments, questions, or have any experiences with MindSumo yourself, I would love to hear from you in a comment below.