Survimo is a site that claims you can earn up to $5 per answer you give when taking surveys.
But is Survimo legit or is it just another scam?
Now, I have tested hundreds of survey sites over the years and I have encountered my fair share of over-the-top claims, so it's always better to err on the safe side and check things out first.
That's why I decided to test out Survimo to see if it really does what it claims it does. In all honesty, a $5 reward per answer you provide in a survey seems quite exaggerated. So, I was not expecting this claim to be true.
But anyway, I will share everything I have learned about the site in this Survimo review so you will know exactly what to expect and find out if it really does pay up to $5 per answer.
What is Survimo and what does it offer?
Survimo, as you can probably tell, is a survey site that will pay you to answer the surveys it offers.
It is a survey site powered by Cint, which is a popular market research firm. It is indeed a legit survey site since you will really get paid to answer surveys.
But the question is, is it worth it? Well, to figure out if it is worth investing your time on, you must first understand how it works and the only way to do that is to examine the earning opportunity it offers.
I have, therefore, made a video that gives you an inside look and shows exactly how you can earn from Survimo. You can also read all the details below the video.
Recommended: Check Out the Top Survey Sites in Your Country
The earning opportunity – Paid surveys
There's only one way to earn from Survimo and that is by answering paid surveys. As mentioned above, this site is powered by Cint, so all the survey offers you will find on this site will come from Cint.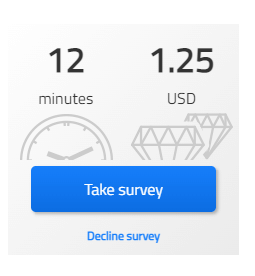 When you log in to the site, you will immediately see all the available surveys. In the photo shown above, you will notice that you will immediately see how much you will earn when you complete a survey. You will also see the estimated time it takes to complete the survey.
These are just minor details that will help you prioritize which surveys to take if you are in a hurry. But it is good that they immediately tell you how much you will earn.
And as you can see, the amount is nowhere near their claim of $5 per answer. I was honestly not surprised because most of the survey sites that I have tested over the years don't offer rewards as high as that. Sure, you can earn $5, but that will be for answering the whole survey. That's also what I expected.
But for those who don't have a lot of experience with survey sites, it can be quite misleading. That's really the first thing I noticed when I was testing this site.
As for the process of how to answer their surveys, if you've been a member of other survey sites before, then it will pretty much be the same. You have to go through a qualifying process first. So, the questions you will be answering will be qualifying questions.
Survey sites do this to determine if you belong to the demographic group the survey is intended for. If you qualify, you get to answer the actual survey and when you complete it, you will receive the reward promised. If you fail to qualify, then you simply move on to the next survey available.
Speaking of surveys available, one thing I noticed when I was testing this site was, that there aren't really a lot of surveys you can answer. Consider yourself lucky if you get offered one survey per week – but this will vary from country to country.
Now, there's a way to increase your chances of getting survey offers and I will discuss that later.
Another thing I noticed when I was testing the site was the site is very spammy for a survey site. I don't usually encounter survey sites with a lot of pop-up ads. Usually, Paid-To-Click sites and some Get-Paid-To (GPT) sites are the types of sites that have a lot of ads.
But with Survimo, you will encounter a lot of ads on every page you go on their website. It gets quite annoying honestly and it's a huge turn-off for me.
Recommended: Check Out the Top Survey Sites in Your Country
As mentioned above, you will get paid a specific amount every time you complete a survey. The amount will be credited to your Survimo account balance.
Now, the question is, how will you be able to withdraw your earnings? Well, there are actually a few options (refer to photo below).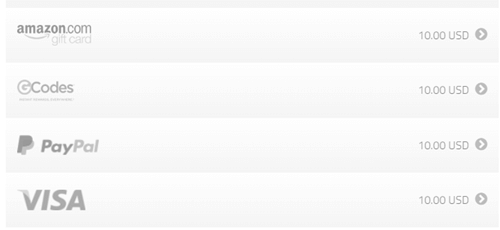 You can withdraw your earnings via PayPal, or convert them to GCodes, prepaid Visa Cards, or Amazon gift cards. But before you can redeem your rewards or withdraw them via PayPal, you have to earn a minimum of $10. That's the threshold you have to reach.
Overall, the payment system of Survimo is quite easy to figure out, and I like the fact that it offers payment via PayPal because it is one of the most convenient payment methods around.
If you are interested in more sites that offer a convenient payment method, I would recommend you check out the top sites that pay via PayPal.
How much money can you make?
The amount you can earn from Survimo will mostly depend on how often you are able to complete a survey. And as mentioned earlier, this site really doesn't offer a lot of surveys. Plus, most of the surveys will only pay you around $1 to $3, which again, is a far cry from what they claim you can earn.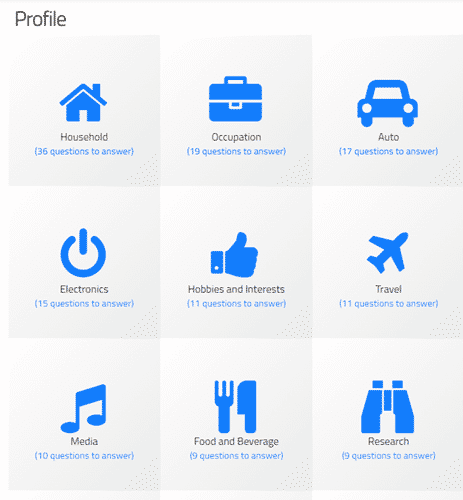 But there is a way to improve your chances of getting survey offers and that is by completing your profile. I do have to warn you that you will have to answer a lot of questions (160 questions to be exact).
You won't get paid to do this, but it's very important you complete your profile because it will increase your chances of getting paid survey offers from Survimo. That's why you have to set aside some time to complete your profile.
Overall though, I would say the earning potential of Survimo is quite low. It will take you a lot of time before you will reach the payout threshold and withdraw your earnings.
Can you use it on mobile?
Survimo doesn't have a mobile app you can download but the website is mobile-friendly, so you can still answer surveys conveniently using your mobile device.
But as I've mentioned earlier, the site has a lot of ads and some of them will pop up from time to time. So, it can get quite annoying especially when you are working on your mobile device.
Who can join Survimo?
Survimo is only available in some countries and you will immediately see which countries it is available in when you visit the website. Some of the countries it is available in are the US, UK, Canada, Australia, Germany, Argentina, and more.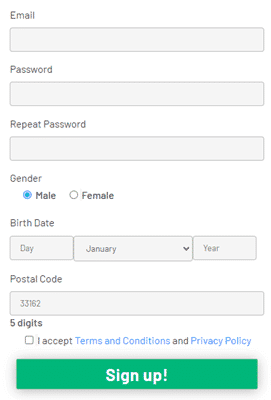 You just have to fill out the sign-up form to sign up as a member. Then, Survimo will send a confirmation email. If you can't find it in your inbox, you might want to check your spam folder. When I signed up, the confirmation email from Survimo went straight to my spam folder.
Just click the Activate button in the email to complete your registration. Then, you can log in to the site and start answering surveys. But as I've mentioned earlier, it is recommended you complete your profile first to increase your chances of receiving survey offers.
Can you get support?
The site doesn't have a Help Center or FAQ page you can check out if you have questions about your account or the site. So, if you have any inquiries, you will have to get in touch with the support team directly. You can do so using the contact form provided on the website.
Overall, I would say the site has a decent support system in place since it offers a convenient way for you to communicate with their support team. I just wish they would also provide a Help Center that discusses most of the common questions and issues you will encounter when using the site.
Final Verdict
Survimo is a legit survey site that will pay you for answering the surveys it offers. It has a couple of decent features, but it has a few drawbacks you need to consider.
Let me conclude this review with a summary of its pros and cons to give you an overview of what the site has to offer. Then, you can decide if this is a site really worth using or not.

Pros:
Offers a simple way to earn
Offers payment via PayPal

Cons:
Limited earning opportunities offered
Low rewards
The site is spammy (has a lot of ads)
In my opinion, Survimo isn't really a site worth investing your time on. There are simply far better options out there if you want to earn by answering surveys.
It doesn't offer a lot of surveys and it doesn't pay well. Plus, their claim that you can earn $5 per answer is quite misleading. It also doesn't help that the site has a lot of ads.
That's why I would suggest you check out the top survey and GPT sites in your country instead if you are looking to earn extra cash. The sites on this list all have better earning potential than Survimo and most (if not all) of these sites don't have spammy ads.
Plus, you will definitely find a site you can join regardless of where you live.
If you have any comments, questions, or have any experiences with Survimo yourself, I would love to hear from you in a comment below.