Do you shop online frequently? If so, there's a cashback app you might be interested in. It's called Fluz and it claims you get up to 35% cash back when you shop.
I admit that claim is certainly interesting because, for cashback sites and apps, that rate is actually quite good. However, it's easy to claim you give out this kind of cashback rate. The question is, is it legit or is Fluz just another scam?
I've decided to check it out to see what it has to offer and I will reveal the full details about this app in this Fluz app review. That way, you don't have to try it out for yourself to find out if it is worth using or not.
So, let's go ahead and take a closer look at Fluz, shall we?
What is Fluz and what does it offer?
As mentioned above, Fluz is a cashback app that lets you earn back a percentage of the amount you spent when you shop online. And yes, it is indeed a legit app since you will really earn cashback rewards.
Here's a short video explaining how Fluz works.
Now, to determine if the app is worth using, you must first understand how it works. And the best way to do that is to examine the earning opportunities it offers. So, here's how to earn from Fluz.
Option 1 – Cashback offers
The primary way to earn rewards from Fluz is through the cashback offers found inside the app. There are two types of cashback offers, voucher cashback offers and regular cashback offers.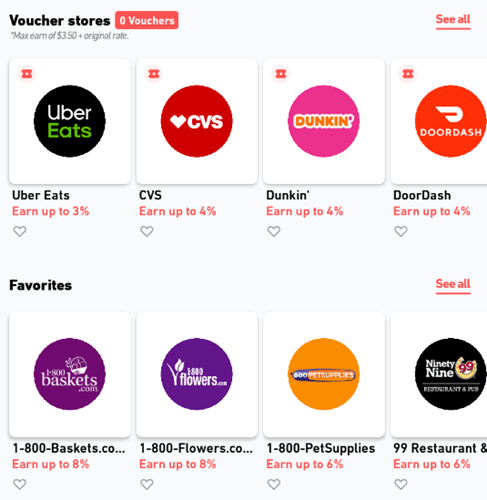 In order to avail of the voucher cashback offer, you will need to earn vouchers through their second earning opportunity which I will talk about later. You can then use these vouchers to avail of the cashback offer. Then, the process to receive the cashback reward will be the same as the regular cashback offer.
On the other hand, the regular cashback offer will not require any voucher in order for you to avail of it. It is also the more preferred option by most members of the app. Here's how it works.
Log in to the app and choose which store you want to shop in. Then, go to the online store of the shop and make the purchase. Take note of the amount you have to pay which will be stated during checkout. Then, open the app and press the store you bought from.
Take note that the purchase is still pending at this point since you haven't completed the checkout. When you press the store in the app, you will be asked to input the amount. Just type in the total amount stated on the checkout form of the store you made the purchase. Then, you have to pay Fluz the amount or if you already have money in your Fluz account, then just press "Next".
What will happen is, once the payment is confirmed, you will get a gift card code. This is what you will input in the checkout process to pay for the purchase. So what will really happen is Fluz will be the one to pay for the purchase (through the code you presented).
Once that's done, you will immediately receive the cashback reward and it will be credited to your Fluz account balance. This is actually what makes Fluz slightly different from other cashback apps and sites. You will immediately receive the cashback reward.
Normally, on other cashback sites and apps, you will have to wait a month or so before you will receive the cashback reward.
Now, you may be wondering how you will pay Fluz for the purchases you will make, but as shown in the photo above, you actually have several options to choose from. You can use your bank account, debit card, credit card, or PayPal to fund your Fluz payments.
Each source has its own cashback rate which will be separate from the cashback rate presented in the offer. Before you avail of any cashback offer from Fluz, I would suggest you set this up first so that the process will be more seamless when you avail of a cashback offer.
Option 2 – Referral program
The other way to earn from Fluz is through its referral program. In case you don't know, a referral program is an earning opportunity designed to promote a site or an app.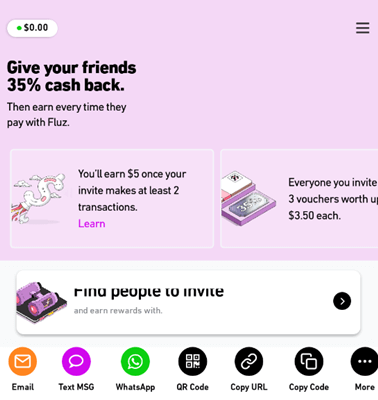 All you have to do is invite people to use Fluz and share your invite code with them. When they install the app, they must input your code when the app asks for it. Make sure to remind them to do this. Otherwise, they will not become your referral and you will not earn any reward.
Once they input your referral code, they will receive 3 vouchers immediately, which they can use to avail of voucher cashback offers. Now, in order for you to earn the referral reward, your referral must make at least two purchases worth at least $25 each within a span of 30 days after joining Fluz.
When that requirement is met, you will receive $5 and it will be credited to your Fluz account balance. Aside from that, you will also earn an average of $0.08 when referrals pay at popular stores using Fluz.
Recommended: Check Out the Top Cashback Apps
How do you get paid?
Every cashback reward you receive will be credited to your Fluz reward balance. Take note that this will be different from the funding balance of Fluz. The latter is used for making purchases from online stores.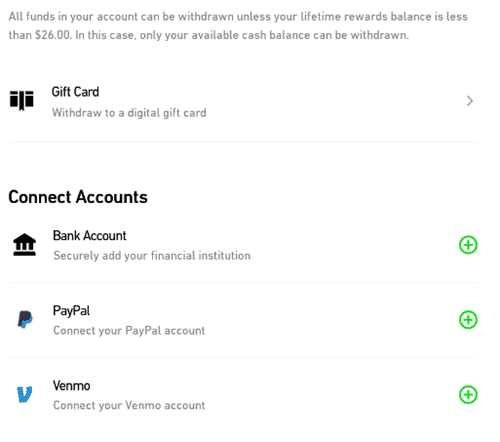 Now, in order to withdraw your cashback rewards, you must first earn a total of at least $26 worth of cashback rewards. Once you've hit this one-time threshold, you will now be able to withdraw your earnings using any of the options shown in the photo above. After you've reached the $26 threshold once, you will be able to withdraw your earnings anytime you want.
And speaking of withdrawing your earnings, you can do so via direct bank transfer, PayPal, or Venmo. You can also choose to convert your earnings to digital gift cards which can be used as payment for online stores that have partnered with Fluz.
Overall, the payout system of Fluz is relatively easy to understand and I like the fact that it only has a one-time threshold you need to reach in order to withdraw your earnings. Plus, it offers convenient payout methods like PayPal.
If you are interested in more sites that offer a convenient payout method, I would recommend you check out the top sites that pay via PayPal.
How much money can you make?
As with all cashback apps and sites, the amount you can earn will mostly depend on how often you use them for shopping and how high their cashback rates are. Plus, you also have to consider the shops that have partnered with them.
If there are only a few popular stores to shop from, then chances are you won't find any cashback offer that you will like. And from what I've observed with Fluz, there aren't a lot of popular stores to choose from.
It pales in comparison to more popular cashback apps like MyPoints and IBotta where there are really a lot of stores to choose from. As for the cashback rates Fluz offers, it ranges from 4% to 10% which isn't bad, but it's also not that good either.
Overall, I would say the earning potential of Fluz isn't really that good. There are plenty of other cashback apps that offer higher cashback rates and more cashback offers.
Can you use it on a desktop?
Fluz is mainly a mobile app, but it does have a Google Chrome extension you can download so you can avail of cashback offers using your laptop or desktop.
It's not widely advertised on Fluz's site, but it is available. Just install it on your Google Chrome and follow the setup process. Then, you can use the extension like you normally would to get digital payment codes from Fluz to pay for your purchases.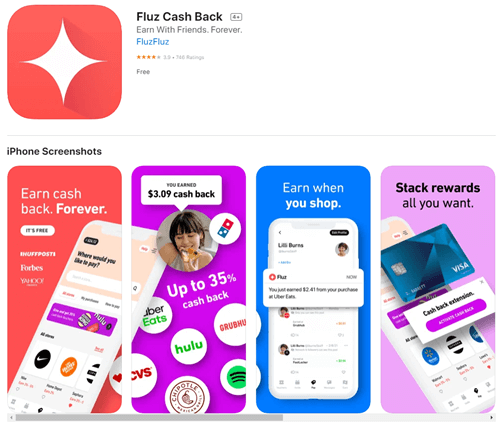 As for Fluz's app, it will work with both Android and iOS devices, so you won't have any problems with compatibility. The app is relatively easy to navigate. You won't have a hard time getting used to the user interface because it is intuitive.
Who can join Fluz?
You can register as a member of Fluz anywhere in the world. However, most of the stores that have partnered with them can only be found in the US. That's why it would be a bit useless if you sign up as a member and you don't live in the US. You also have to be at least 18 years of age to register as a member.
To become a member of Fluz, you have to first download and install the app. Then, you will have to go through the registration process when you first open the app. You can use your own login details or you can use your Facebook or Google account to sign up.
Then, Fluz will ask for your mobile number which you will have to provide because they will send you a confirmation code via SMS to complete your registration. Once you've provided the confirmation code, you can now log in to the app and start availing of cashback offers.
Can you get support?
If you have any questions about the app or your account, I would suggest you visit their website and go to the Help Center page. This page discusses most of the basic information you need to know about the app.
One issue I noticed is that the app really doesn't have a link you can press to reach the same page. It also doesn't even have a contact form you can use if you want to get in touch with their support team. You have to visit the website to get to the contact form or the Help Center, which I found a bit disappointing.
Normally, these features are also available inside the mobile app. At least that's what I would expect. But apart from that, I would still say Fluz offers a decent support system because they do offer a way for you to communicate with their support team. I just wish it would also be accessible from the app.
Final Verdict
Fluz is a legit cashback app that will allow you to earn back a percentage of the money you spend on online purchases. It has a couple of interesting features, but it also has a few limitations you need to know.
Let me end this review with a summary of its pros and cons so you can get an overview of what the app has to offer. Then, you can decide if you should use it or not.

Pros:
Offers payment via PayPal
There is only a threshold the first time you withdraw your earnings
You will receive the cashback reward immediately

Cons:
Limited cashback offers available
Low cashback rates
In my opinion, Fluz doesn't really offer anything special to give you a reason to use it. Apart from the quick turnaround of the cashback reward, there's little reason to use it. It doesn't have a lot of partner stores and its cashback rates aren't really that good.
That's why I don't recommend you use it. There are simply far better options out there.
Now, if you are looking for ways to earn extra cash without having to spend a single dime, I would recommend you check out the top survey and GPT sites in your country instead. The sites on this list all have good earning potential, so you will be able to earn a decent amount on a regular basis.
Plus, you will definitely find a site you can join regardless of where you live.
If you have any comments, questions, or have any experiences with Fluz yourself, I would love to hear from you in a comment below.