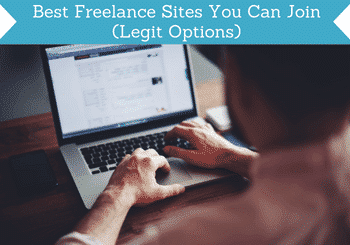 One great way to earn extra cash online can be to take on freelance jobs. That's because you can work at your own pace and schedule. Plus, you can earn a decent amount from each job.
Now, the question is, where can you find these jobs?
Well, freelance jobs can be found on freelance sites, and they are all over the internet. However, not all freelance sites are worth it. That's why I've decided to make a guide on the best freelance sites you can join to help you figure out which sites are really worth it.
This will save you a lot of time when looking for freelance jobs. I will also include a brief description of each site so you easily will be able to identify which sites suit you best.
How much money can you make from these sites?
Before we talk about the actual sites you can join, let's first discuss what you potentially can earn from these sites. That way, you can plan accordingly.
The thing with freelancing is, if you are just starting out, don't expect to get top dollar from the jobs you can work on. Just like with any other job, your reputation matters. So, you'll have to accept jobs that don't pay as much because based on my experience, employers that offer more money usually look for freelancers with more experience.
That being said, you can still find lots of jobs from these sites where the pay is pretty decent. You can earn as much as $30 to $50 per job. For simpler jobs that don't take up a lot of your time, you can usually expect to get paid $10 to $20.
So overall, there's still decent money to be made. But of course, you have to take it all in stride because you won't get accepted for all the jobs you apply for. You have to be patient because rejection is part of the freelancing industry.
If you are patient enough, you will eventually find a job you will be accepted for. That's just how the freelancing industry works. That is why reputation masters. As you keep building your "portfolio", more and more employers will trust and hire you. When that time comes, you can even make a living out of working as a freelancer.
What type of jobs can you find on freelancing sites?
The great thing about most freelancing sites is that there will be a wide variety of jobs you can choose from. From data entry jobs to more specialized jobs that require specific skills, you name it, these sites have it.
If you are just starting out though and you don't have any particular skills you specialize in, I would recommend you go for easy freelance jobs for beginners. These jobs will not require any special skills and they still pay decent money.
Some of the easy jobs you can take on are blog commenting, data entry, removing background from images, and more. The thing with becoming a freelancer is, you will build up your skills over time so you can take on more complex jobs. That is why it is one of the best gateways to online earning, in my opinion.
5 Best freelance sites you can join
Now that you know what to expect from these freelance sites, it's time we discuss the actual sites you can join. Take note that the list below is not prioritized according to which sites are the best.
Picking a freelance site to join will still all depend on your preferences. I would suggest you join multiple sites because that would be the best way to gain access to a lot of job offers. Anyway, you will still be in control of which jobs you want to take on.
I will keep updating this list if I find new freelance sites that are worth it, so make sure to bookmark this page and check on it from time to time for new opportunities.
#1 – Fiverr
One of the most popular freelance sites today is Fiverr. Its name is practically synonymous with freelancing. The reason why I say this is that a lot of companies and businesses use Fiverr to get work done. That means there will be plenty of jobs available.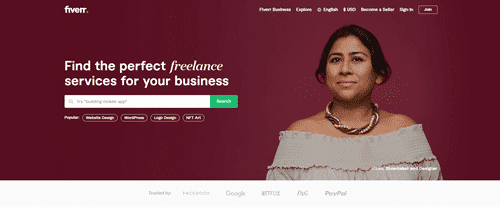 You can virtually find any freelancing job on this site. Plus, most jobs pay a decent amount. And best of all, it offers several convenient payment methods like PayPal, Apple Pay, wire transfer, and more.
They have also been plenty of freelancers that are able to find full-time opportunities on Fiverr, so if you are looking for a long-term option, it is one of the best options you can find.
#2 – Upwork
The other freelancing site that can rival the popularity of Fiverr is Upwork. This site offers plenty of freelance jobs and most of them can be done without the need for specialized skills.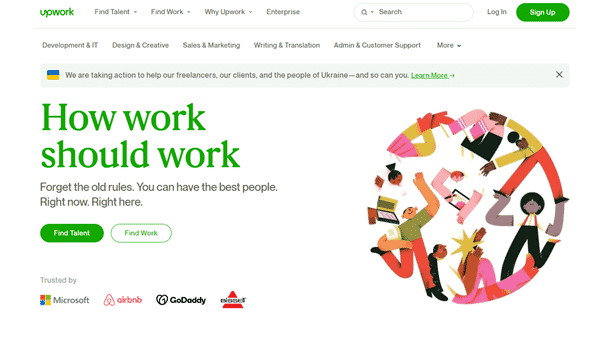 What I like best about Upwork is, it also offers convenient payment methods like PayPal, Payoneer, Instant Pay, and direct bank transfer to name a few. You can find jobs in the field of Design & Creative, Sales & Marketing, Admin & Customer Support, Writing & Translation, and more.
Upwork also has a mobile app you can use so you can apply for jobs even when you are not in front of your computer. Best of all, it is available worldwide, so you can register as a member regardless of where you live.
#3 – Flexjobs
A decent site to find remote jobs is called Flexjobs. There are a lot of remote jobs you can do to earn extra cash and most of them offer decent pay.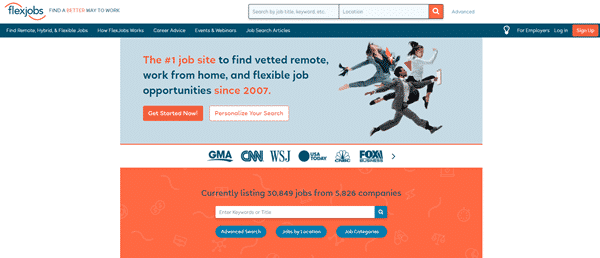 However, you have to pay a subscription fee in order to view all the job offers you can apply for. If not for this fact, Flexjobs would be a better freelance site, in my opinion. The minimum amount you have to pay to gain access to their full list of job offers is $9.95 per week.
But the thing with Flexjobs is, you can actually find plenty of full-time opportunities, so if this is what you are looking for, then it might be worth spending a bit of money until you can find a job.
One unique thing about Flexjobs is that it won't be the site that will pay you. Instead, you will receive the payment directly from your employer and the usual payment options are direct bank transfer and PayPal.
Flexjobs also has a mobile app you can download so you can look for jobs using your mobile device. Most jobs available are for people who live in the US, but there are also a lot of great opportunities for people in other countries. They even have a section for jobs you can do from anywhere.
#4 – Freelancer.com
Freelancer, as the name suggests, is a freelance site where you can apply for various freelance jobs. There will be jobs for data entry, data analysis, web development, digital marketing, and more.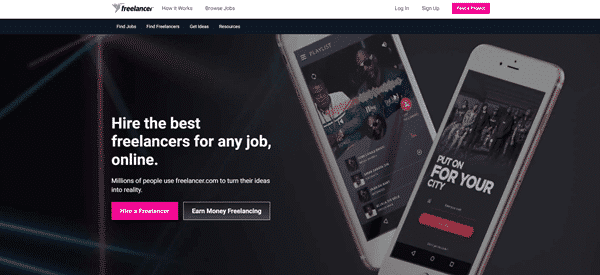 The way their jobs work is that you bid for the position meaning you have to write the amount you want to get paid. Then, it's up to the employer which bid he/she chooses to accept. It is a free site but there will be a fee involved (usually 3% or $3.00 USD of the pay, whichever is greater) when the job is awarded to you.
The site offers payment via PayPal, Skrill, Payoneer, wire transfer, and express withdrawal. It is available worldwide, so you can register as a member regardless of where you live. Plus, it has a mobile app you can download so you can apply for jobs even when you are not in front of your computer.
#5 – PerkWiz
Technically speaking, PerkWiz is not a site but I decided to include it because it does offer freelance jobs. To be clear, it is a mobile-only freelance platform where you can apply for freelance jobs using your mobile device.
While the freelance jobs available can't be done on a mobile device, you will still find earning opportunities (paid surveys and offers) that can be done on a mobile device, which is quite convenient, in my opinion.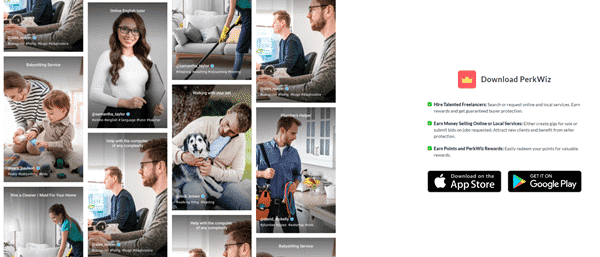 The app offers Payoneer as its main payment method for cash, but it also offers other rewards like gift cards. The mobile app will work with both Android and iOS devices and you can sign up as a member regardless of where you live.
You do have to be a bit patient with this app because it has a fairly steep learning curve in terms of how to earn from their jobs. You have to find the proper balance of how to attract employers and get paid a decent amount.
But as I've mentioned, there are other ways to earn from this app if there aren't any freelance jobs you can currently work on.
Final Thoughts
So there you go. These are the best freelance sites you can join to earn extra cash. Most of the sites on this guide are free to join and they are all definitely legit options. As I've recommended earlier, you should join multiple sites to gain access to more job offers.
That way, you have more jobs to choose from. If you are just starting out as a freelancer, I would suggest you work your way up. You can start with the easy jobs which don't pay a lot and once you gain enough experience, you can work on the higher-paying jobs.
But if you are just looking for simpler ways to earn extra cash, I would suggest you check out the top survey and GPT sites in your country instead. The sites on this list all have good earning potential and all you have to do to earn is work on simple tasks.
If you have any comments, questions, or you know of any freelance site that you think belongs in this guide, I would love to hear from you in a comment below.