Appinio is an app that claims you'll be able to earn by answering simple surveys. But is it worth using and is it even legit or is it just a scam?
These are all valid questions and I will address each of them in this Appinio app review because I have personally tested the app so I can give you a detailed inside look at what it has to offer.
That way, you don't have to try it out for yourself to see if it is really worth your time. I will also include my recommendations about this app, so let's not waste any more time and go ahead with this review, shall we?
What is Appinio and what does it offer?
Appinio is a survey app that will reward you for answering surveys. It is indeed a legit app since you will really earn rewards for answering the surveys and polls it offers.
Now, the first step to figuring out if this app is worth it is to understand how it works and the best way to do that is to examine the earning opportunities it offers. So, here's how to earn from Appinio.
Option 1 – Polls
The easiest way to earn from Appinio is to answer their polls. When you log in to the app, the first thing you see will be the polls you can answer (refer to photo below).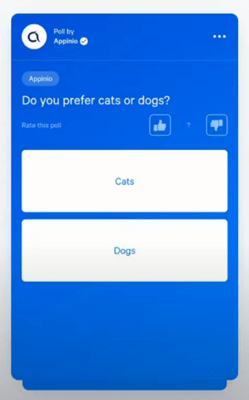 As mentioned at the beginning of this review, you can earn from this app by answering simple surveys. This is actually what I am referring to. As you can see in the photo above, these polls can be answered in just a few seconds.
However, you need to know that not all polls offer rewards. What will happen is that when you answer a poll, you will have the chance to receive what they call a coin package, and when you open this package, you'll earn a certain number of coins (usually around 5 to 10 coins).
You will also receive experience points for answering these polls. Later on, I will explain why these experience points will matter.
There are a decent number of polls available at any given time, but they are finite. So, if you run out of polls to answer, don't worry because you will eventually be given more to answer the next day.
Option 2 – Paid surveys
From time to time, Appinio will also offer paid surveys. It's not very common but it does offer more rewards than polls.
The process for answering these surveys is pretty easy. You don't have to go through a qualifying process. But, their surveys do have questions that are designed to ensure you are focused on answering them and not just providing random answers.
For example, a question might ask you to provide the answer after a few seconds instead of answering it immediately. As mentioned, these questions are designed to make sure you are not speeding through the survey just to get the reward.
After you've completed the survey, you'll earn around 50 to 800 coins. In my experience, the surveys that take longer to complete offer higher rewards. But again, these surveys are very easy to answer, so they won't take up a lot of your time.
Option 3 – Referral program
Lastly, you can earn additional rewards through Appinio's referral program. All you have to do is invite other people to join the app.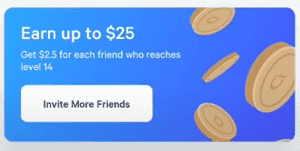 To invite a person, simply share your invite link with them and when they click the link and install the app, they have to go through the sign-up process (I will discuss later how you can sign up). Once they are done with the registration, they will now become your referral.
You will immediately receive 50 coins as a reward. But, when your referral keeps answering polls and surveys, their membership level will keep increasing and when they reach level 14, you will earn an additional reward of 2,500 coins.
That is why it is important to make sure the people you invite are those that are really interested in earning from the app if you want to maximize your earnings from this opportunity.
Keep in mind though that this earning opportunity will only allow you to earn a maximum of $25. That means you can only earn from the first 10 referrals you get (as long as they've reached level 14). I seldom encounter sites and apps that will limit your referral earnings.
Normally, referral rewards are unlimited, so this is definitely one of the main drawbacks of this app.
Recommended: Check Out the Top Survey Apps
How do you get paid?
As explained above, you will earn coins for participating in the earning opportunities the app offers. But what can you do with the coins you've earned?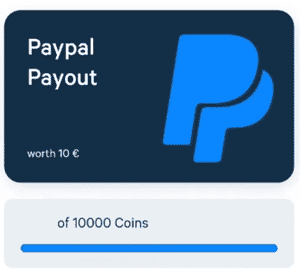 Well, you can convert your coins to cash via PayPal as shown in the photo above. To do so, you'll need to earn at least 10,000 coins which will be worth a $10 PayPal withdrawal. This threshold is relatively low compared to some survey apps, but that doesn't necessarily mean you'll be able to withdraw your earnings quickly (more on this later).
But once you reach the threshold and withdraw your earnings via PayPal, they will actually be credited to your PayPal account quite quickly. You don't have to wait a few days to receive your earnings.
Aside from PayPal withdrawals, you can also convert your coins to Amazon gift cards. You also need to earn at least 10,000 coins to redeem this reward.
Overall, the payment system of Appinio is very simple and I like the fact that it offers a convenient payment method like PayPal. If you are interested in more sites that offer a convenient payment method, I would recommend you check out the top sites that pay via PayPal.
How much money can you make?
The amount you can earn from Appinio will be quite limited and will mostly depend on how much time you invest in it. As mentioned earlier, every time you answer a poll or survey, you will receive experience points that will increase your account level.
Every time your account level increases, you will actually gain access to more surveys and polls which will eventually lead to more earnings. That is why you have to make sure you answer all the polls and surveys available when you log in to the app to quickly increase your account level.
The maximum level you can reach is level 50 and when you hit it, you will gain access to the most number of polls and surveys that Appinio has to offer.
As for how much the app pays, unfortunately, the rewards are quite low. You can only earn a maximum of $0.80 from paid surveys and for polls, it will be significantly lower. It's not surprising though since their earning opportunities don't eat up a lot of your time and effort, so you can't really expect to earn a lot.
That is why even though the app has a relatively low payout threshold, it will still take some time before you will be able to reach it because of the low rewards it offers. Hence, I would say the earning potential of this app is quite low.
Can you use it on a desktop?
Appinio is a mobile-only platform, so you will really need a mobile device to earn from it.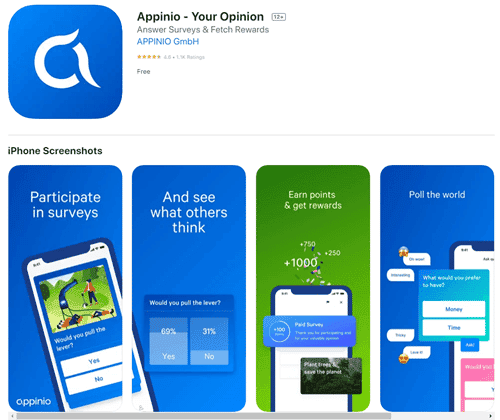 As for the app, it has an Android and iOS version, so compatibility won't really be an issue. It is also very user-friendly, so you won't have a hard time getting used to navigating it.
And best of all, you won't encounter any pop-up ads while using it which makes the overall user experience more favorable.
Who can join Appinio?
The app or even the site doesn't really say exactly which countries it is available in, so to figure out if it is available in your country, you have to search for it in your app store. If it will appear in the search results, then that means it is available in your country.
To sign up, you must first download and install the app. Then, when you open the app for the first time, it will ask you to provide your email address as well as your mobile phone number. After you've provided the necessary information, the app will send you a confirmation email.
Simply click the link in the email to complete your registration. After you've done that, you can now log in to the app and start earning.
Can you get support?
If you have any questions about the app or your account, you can check out the Help section inside the app. It discusses most of the basic topics you need to know about the app.
If you can't find the answers to your questions, you can get in touch with their support team by using the contact form provided in the app. You can also email them directly at hello@appinio.com.
Overall, I would say the app has a decent support system in place for its members since they provide a couple of ways for you to get assistance in case you have any questions or you encounter any issues while using the app.
Final Verdict
Appinio is a legit survey app that will allow you to earn by answering polls and surveys. It has a couple of good features, but it also has some limitations you need to consider.
Let me finish this review with a summary of its pros and cons to give you an overview of what the app has to offer. Then, you can decide if it is really worth it or not.

Pros:
Offers an easy way to earn rewards
The app is user-friendly
Offers payment via PayPal

Cons:
Limited earning opportunities offered
Low rewards
Limit to how much you can earn with the referral program
Appinio is not a bad survey app, in my opinion. But it's not that good either. The reason why I say this is that even though you can easily earn rewards from it, it will still take a bit of time before you can earn a significant amount.
That's why it is important that if you decide to use it, you have to temper your earning expectations a bit. You won't earn a lot from it but it doesn't take up a lot of your time, which is why I would say this app can be a decent secondary app to earn from.
But if you are looking for a primary source of extra cash, I would recommend you check out the top survey and GPT sites in your country instead. The sites on this list all have good earning potential so you'll be able to earn a decent amount on a regular basis.
Plus, you will definitely find a site you can join regardless of where you live.
If you have any comments, questions, or have any experiences with Appinio yourself, I would love to hear from you in a comment below.